Deep tissue massage Fulham London
Deep tissue massage
from £70

for 60 mins.


Get a free massage

when you book a course of 6.

Deep tissue massage is applied to both the superficial and deeper layers of muscles, fascia, and other structures. Combining compression, stretching, and soft tissue release with slower and more direct deep pressure. Deep tissue massage aims to release chronic muscle tension and knots, release toxins from muscles and gets blood and oxygen circulating properly which will help
Improve posture.
Improve range in a joint.
Alleviate cramp.
The release of trigger spots.
Induce deep relaxation.
Deep tissue massage can be used to treat a specific problem.
Techniques include massage with forearms, fists,elbows, squeezing techniques.
Deep tissue techniques take longer to apply than the techniques used in therapeutic massage, therefore this technique works very well on particular areas of the body, for example clients who have tight upper backs and shoulders, runners with tight calfs or hamstrings. Clients who sit down most of the day tend to have lower back and gluteal tension and tightness

If you suffer from any of the above don't wait any longer and book your deep tissue massage today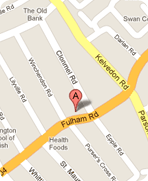 Location
Claire Durand is located in Parsons Green with easy access to tubes and buses, there is also ample pay and display parking.
Special offer
Make the most of your first visit and get a 10% discount on a treatment of your choice.
Offer available for first booking only and for one treatment.